Client RBI
Project RBI Monetary Museum


Transacting Through Time

Challenge
The Reserve Bank of India
took a decision to

demystify money and the history of monetary instruments

by developing a

Monetary Museum.

The museum would educate, inform and celebrate the

history of monetary instruments

and the role of the

Reserve Bank of India

in protecting & growing the

Indian economy.

This had to be made easy to understand by the

public visitor

in a format that ensured safety of the

precious, ancient artefacts.
Interpretation
The Indian monetary system goes back to the years of barter, with instruments of exchange and value evolving over time. Our history includes millennia of foreign invasions and colonisation before the creation of a Central Bank. We realised that the history must be brought alive by integrating both artefact and graphic information into an integrated display system that was unique to each historical milestone.
Solution
The RBI Monetary Museum experience is a walk through the evolution of money, spanning an expanse of many millennia and communicating to an audience across age and interest groups. We eliminated conventional panels, integrating artefacts with graphics, caricatures and pencil renders, providing a kaleidoscopic view of money and how it continues to evolve to accommodate advancing technology and trends.
This project, done under erstwhile design firm RJB-Design and the NID, was lead by our Director.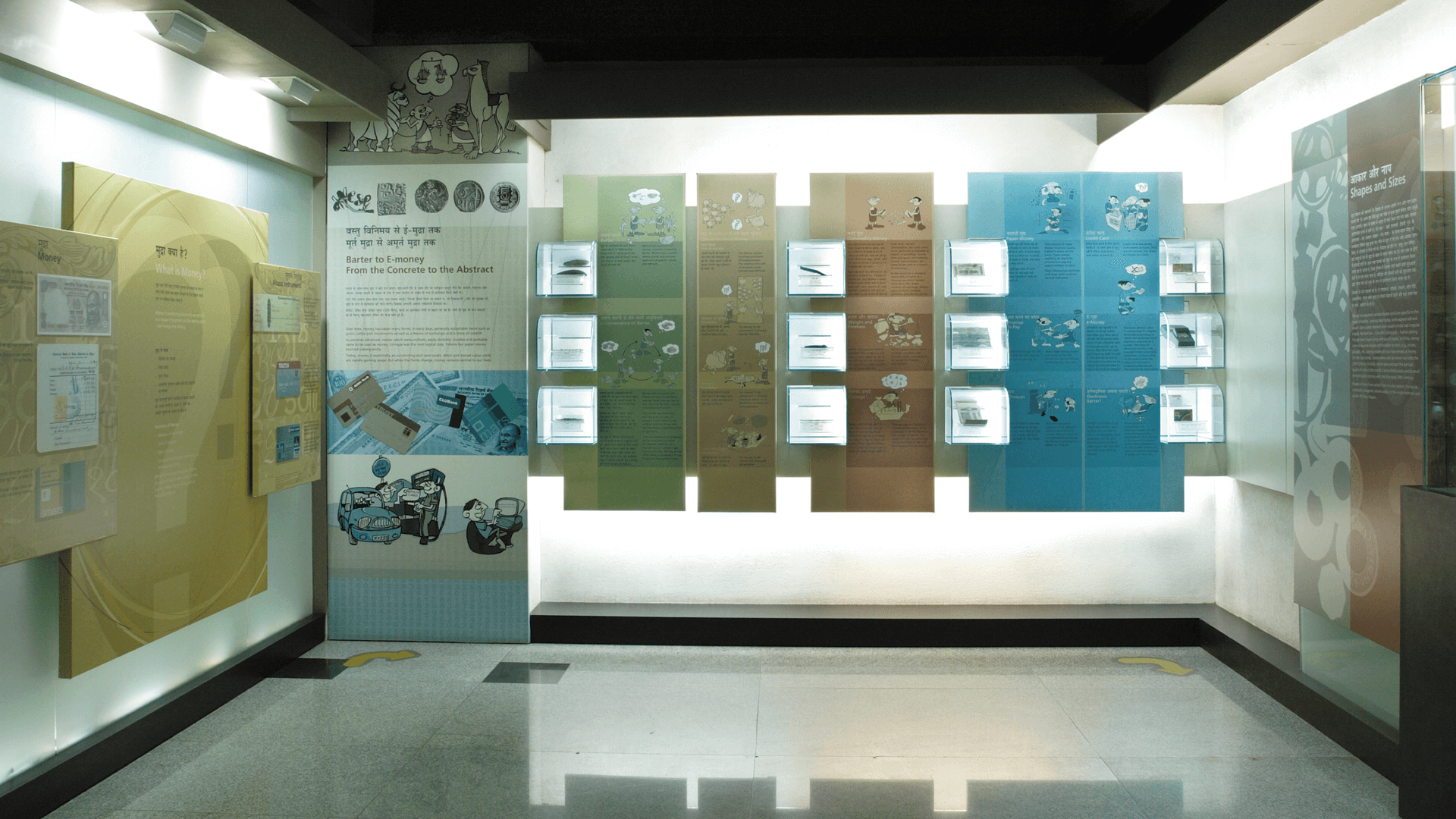 Success
The museum is on the

map of museums to visit in Mumbai,

listed by travel sites such as

TripAdvisor, TimeOut and others

as one of the

ten best museums to visit in Mumbai.
More Projects by Service > Experiences
More Projects by Industry > Art & Culture